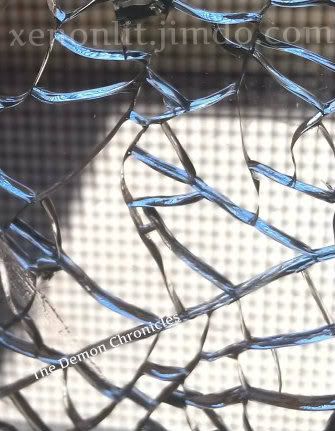 INTRODUCTION
I grew up with a paranoid schizophrenic and much older brother. He was about the same age and intelligence level as James Holmes, the alleged Aurora, Colorado mass killer.
If my brother had access to the online and real world resources that James Holmes had, I have no doubt that he could easily have committed a similar act.
My brother had a terrible and violent history beginning in his early 20s. I was barely out of grade school when he attacked my sister, tried to kill himself in the house with a shotgun, then ran off to come and go at will.
The other day, I was talking with a neighbor about my book, which is written with malignant mental illness as a major theme. I had given her a proof copy and when I asked if she had read the book, she told me that she did not intend to read.
She said "I do the real thing and I have a lot of things to teach you about being a spiritual demon fighter."
I tried to tell her that my book is a fictional tale of unstable people who came to believe that they were the characters that they were role playing. In this case, they chose to role play as mythical demons, fallen angels and imps, rather than vampires or medieval people.
She refused to listen to anything I said about the fictional content of my book, which has much more story and message going on, and she kept aggressively repeating that she does the "real thing".
This means that the woman appointed herself to fight the very real demons that she perceives to be operating in the world. She has taken a very dangerous and deviant path to resolving her own spiritual conflict and she is a dangerous person.
I told her that I did not want to hear any more of that talk, not one more word of it.
I live in a community that houses a decent proportion of mentally ill people who insist on interacting with others on a daily basis. They appear to be normal and engaging people. Just when we think that we have met a new friend, we find that we have been dealing with a seriously fractured mind. It is hurtful and devastating for the patient and for the rest of us.
I have paid my dues to the mentally ill for a good chunk of my life, and do not intend to be more than a kind person to the more malignant ones. Otherwise, I have no desire or intention to have them for friends or anything else in my life.
MALIGNANT AND BENIGN MENTAL ILLNESS

I think of two types of mentally ill and brain damaged people: Malignant and benign. Benign mentally ill people intend no harm, do no harm, and are quite agreeable as they wander the external world that manages to get past their internal filters.
Malignant mentally ill people see other people as enemies, prey, objects, demons and monsters. People are not seen as human beings. They can be quite intelligent, quite high functioning, quite resourceful, quite manipulative and quite cunning.
There are degrees of severity in all malignant mental illness. The workplace bully, home abuser, bizarre classmate and neighborhood jerk are mildly mentally ill. They rarely cause enough problems to warrant a call to the police or some time in hospital for observation.
We all have some mild form of mental illness, whether it is a phobia, a bit of PtSD (without the severe episodes of PTSD), an eccentricity, clinical depression, or any number of situational depressions.
Medium severity mental illness exists in a good number of high functioning individuals. Narcissism, racism, obvious anti social behavior, mild panic attacks and obsessive-compulsive behavior, and stronger phobias are not always debilitating.
Mild and benign conditions do not prevent people from working, going to school, raising children and getting through life with overall success.
Severe mental illness is something that we would expect to show itself immediately when we meet a new person. Not so. We can befriend, talk with and relate to people for a while before the person stops faking it and blurts out that socially fatal set of words. Or the person may react to an external trigger in a way that is shocking and obviously wrong.
I have a neighbor who was so outgoing and personable that she was all over the apartments, knocking on doors and interacting with everyone.
She is crazy as a bedbug.
She calls the manager and tells her that her neighbors on each side of her "Are writers who are writing their plots to cause my death!"
I am one of those neighbors!
She has had numerous police calls, thinks that people are coming into her apartment while she is there. She believes that they sniff her underwear.
She is also severely handicapped and has problems with her physical health. I keep telling the landlord that she should not be living on her own.We live on the third floor and in the event of a fire, the elevator shuts down and she cannot evacuate herself down three flights of stairs.
The landlord has contacted every possible agency as well as her next of kin and no one can or will do anything to get her into a better living situation.
WHY HAVE COMPASSION FOR THE FAMILIES AND VICTIMS

When my brother would escape from mental hospitals (with the help of one of the stupidest of mental health workers), my mother was very cruelly and rudely told it was none of her business.
From the time that I was fifteen years old, my violent and dangerous brother roamed around, severely hurting several people and even robbing an Aunt's home.
Eventually, a court ordered him to be monitored by a local mental health agency or to spend the rest of his life in jail. He miraculously straightened up enough to stay on his medication.
His medication would wear off in a six week cycle and his true, vicious, violent nature would come out. He would call our isolated, country home and threaten us.
The mental health agency was populated by assholes who treated us families and victims as if we were their enemy. They were rude, unhelpful and ignorant of the fact that they had been played by a master.
Imagine their shock at my brother's funeral when they saw it packed with family members. I set up and paid for a good chunk of that funeral. Many of the biggest posers in the family talked of birthdays and holidays with him. Those idiots at mental health had been convinced by him that we were the meanest family in the world.
This is what the families and victims of the malignant mentally ill go through, day after day, year after year and even after death: no help, no hope and the constant threat of violence.
In Northern California alone, one patient in severe crisis was turned away from a clinic in Nevada County. He returned with a gun and shot the place up, killing some people.
The Roseville Galleria was seriously burned up after another patient sought help and was turned away.
Multiply these events by America and start asking what we are paying psychiatrists and clinicians to do at mental health centers? Why are they not shut down and replaced with better run agencies after they fail to prevent such catastrophic and preventable violence?
I feel the pain that the family of James Holmes is going through. They did nothing wrong. The onset of mental illness can be slow and sneaky. The patient is not going to volunteer for treatment and the family is stuck in a hell of confusion and discouragement during every stage of the disorder's progress.
A MESSED UP MENTAL HEALTH CARE SYSTEM

There are very few things that families can get mental health officials or law enforcement to do, even when the person is clearly a harm to self or to others. "The actual harm has to happen", we are told.
Families and close friends are traditionally cut off from giving anecdotal and other evidence that is essential to treatment and monitoring.
Even when harm does happen, it is far more likely that the malignant mentally ill will be freed to walk among us and to fool us some more.
There is not only the absence of a reliable cure, there is the absence of reliable treatment. Patients are freed up and left on their own to take their medication. This is in no way, shape or form reliable treatment.
And we continue to be fooled by both benign and malignantly mentally ill people. We know and love some of them. We barely know the rest of them. There never was a prevention for James Holmes. There will be no prevention for the future James Holmes's of this world.
Malignant mental illness rises with the frequency and volume of trauma and catastrophic violence in a civilization. Trauma and catastrophic violence rises with the frequency and volume of mental illness.
All the we are armed with is vigilance, caution, home smarts (as opposed to street smarts) and pulling our heads out of those giant buckets of sand.