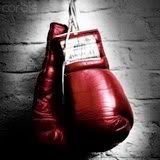 I grew up in a household that was angry. Angry all the time, and then angry some more. Happy was not a term that was bandied about freely in my childhood. But, by golly, those folks of mine sure did like to argue. My parents had honed arguing to a fine art and they weren't shy about letting any one of those multitude of disagreements spill over into a full-blown fight - what we here in Texas like to refer to as a "knock-down, drag-out."
I remember a time my mother threw a suitcase at my father. Seriously - a suitcase. Who throws a suitcase? My mother, that's who. Maybe she had exhausted all the more acceptable articles at her disposal - the ashtrays, vases, glasses, knick-knacks. I don't really remember, but I do remember that hard shelled, god-awful blue-green suitcase sailing through the air and landing... I can't be sure here, as my memory goes a bit foggy in bits and pieces, but I'm fairly certain that suitcase/missile landed on the wall behind my father. I know he didn't just stand there and let it hit him, so the wall is a safe bet.
But, I digress. Back to that angry household; the one with all the blowups, bickering and outright brawls. One would think that having lived through all that acrimony and turmoil, I would run at the first faint whiff of a disagreement, let alone a full-blown argument. Yes, one would think.
It has taken me all of fifty-four years to come to the realization that I am not obliged to attend every argument to which I am invited; and I get invited to a lot of arguments. More than my fair share, I think. Some time during the last year, I had a revelation of sorts regarding my presence at dustups, debates, disputes and disagreements.
My presence IS NOT required. As they say, 'I have no dog in this fight,' and even if I did, I still don't have to attend. I can simply shut my mouth and walk away; or better still, I can choose not to open my mouth to begin with. And all those online arguments? Ha! Double ha! My revelation broadened, my understanding deepened, and I began to simply stop participating in all the ruckus.
It happened just the other day. I posted a link on Facebook to which certain of my acquaintences took great umbrage. A long, impassioned comment appeared under the link I had posted. This wordy, indignant commenter had a lot to say, all of it in a confrontational tone which was clearly designed to elicit a strong response from me. The writer certainly had a bone to pick with me.
Okay, fine, I'll admit that I stewed about it for longer than I should have. I composed several snarky retorts (in my head only, though; my thoughts never wended their way down to my fingertips, never made their way on to the keyboard.) Ultimately, though, I declined her invitation to verbally spar. I blithely deleted her comment and then, with a few swift strokes, unfriended her, thereby ending the possibility of a second, more insistent invitation to HER argument.
You may be asking yourself, 'what's the big deal?' And I do have an answer for you. Were you so inclined to read back through some of my earlier posts, you might notice a certain combativeness, a tendency to jump into battle with the slightest provocation and a well-honed talent for verbal shredding. Bickering and I have a long, well-established history. I have always been of the opinion that EVERYONE is entitled to my opinion. I have never been above believing that, if necessary, I would gladly beat my detractors into submission - with words, people, with WORDS.
Maybe maturity is creeping up on me, or possibly I'm just mellowing, but I no longer feel the need to verbally club someone in an attempt to make them believe as I do. Or maybe it just takes more energy than I'm willing to muster.
I prefer to think that I have reached a place in life where I am comfortable in my beliefs; a place where I don't find it necessary to defend, explain or justify everything I say (or write.) More importantly, I am happy to let others have their beliefs, while I hold on to mine, and hope that we can agree to focus on our similarities rather than our differences.
All things considered, it's not a bad place to be.