One of the first major tours of the year, Linkin Park's A Thousand Suns has already raised the bar for 2011; an incredibly brilliant and unforgettable concert experience.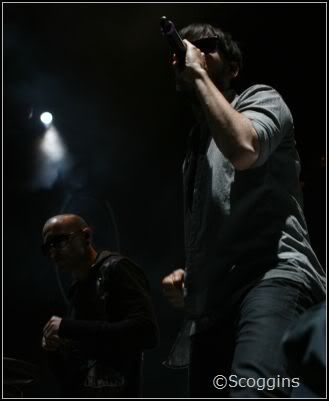 Barely two weeks into the first leg of their highly anticipated A Thousand Suns tour and Linkin Park is poised to stake their claim on the year 2011. They hit the ground running with their 2010 release A Thousand Suns, an album that seemed to confuse reviewers and critics who scrambled about chaotically trying to find some musical niche to fit it into. Nu-metal, techno-rap, hip hop-electronica: they all slapped some label on it, and when it didn't quite fit they slapped on another. While the critics were tussling about, trying to force A Thousand Suns to conform, Linkin Park fans were out buying the record.

A Thousand Suns settled into the #1 spot on Billboard's Top 200 and this week the first single from the album, "Waiting for the End," took over the #1 spot on the Alternative Songs chart. Although "Waiting for the End" is a great song--an awesome song--it is not the strongest track on the album; there are others waiting in the wings that promise to make an even bigger impact.

A Thousand Suns has a full arsenal of hits: locked, loaded and ready to explode, and if the tour is an indication of what is to come, then Linkin Park is going to own 2011. I had the pleasure of catching the show at Philips Arena in Atlanta, Ga on January 23, 2011.

A Thousand Suns: Concert Review Photo Slideshow: Linkin Park - Pendulum - Does it Offend You, Yeah?

In 2005, Linkin Park founded the charity organization, Music For Relief, which works to provide relief to victims of natural disasters as well as raising awareness of the challenges and solutions surrounding the issue of global warming. For each ticket sold on the A Thousand Suns tour, one dollar will be donated to Music For Relief. The A Thousand Suns concert opened with video footage for the cause as well as the text code for fans to download the audio of the show as I had previously mentioned in the Tour Video Preview.

Concert Review Photo Video: Pendulum and Does It Offend You, Yeah?


The two bands supporting Linkin Park on this first leg of the A Thousand Suns tour are Does It Offend You, Yeah? and Pendulum, with Prodigy picking up on the second leg. Well-known for their generosity in supporting new bands, Linkin Park's choice of these two bands was a perfect fit for the tour.

Does It Offend You, Yeah? hit the stage first with full force energy. Previously selected for the "Breaking Artist" list by Rolling Stone and beloved in their native UK for their raucous stage show--which has, on occasion, landed band members in the hospital--there was concern that they might be somewhat hampered by the limited space due to Linkin Park's massive stage set-up, but it didn't seem to deter them in any way.

Does it Offend You, Yeah? set the crowd on fire with their opening; I've not seen people rush to the stage so quickly just to see what the hell was going on. Amped up electronics. Bouncing, diving, full body rocking theatrics. Being a band beloved in the UK and not yet familiar to American audiences, Does It Offend You, Yeah? had most of the crowd standing gape mouthed with wonderment during their opening.


The band had a short set that covered songs from their 2008 release You Have No Idea What You're Getting Yourself Into, but by the time they wrapped up "The Monkeys Are Coming," from their up-coming album, Don't Say We Didn't Warn You, set for release March 14, 2011, along with fan favorite "We Are Rockstars" from You Have No Idea What You're Getting Yourself Into, which was featured in The Fast and the Furious 4 trailer, they had won the crowd over solidly. UK dance-punk,techno-pop rockers Does It Offend You, Yeah? had Atlanta bouncing in the aisles with their A Thousand Suns performance--no one here is going to forget them any time soon! Or the hat, for that matter.

Along with their up-coming tour schedule, Does It Offend You, Yeah? is offering a free download of the single "We Are the Dead," from Don't Say We Didn't Warn You on their website, DoesItOffendYou.com --and without the usual Follow us/Facebook us catch--I have to give an extra nod of approval to this band who understands that saying "free download" should mean free rather than "shackled-together-forever on Facebook."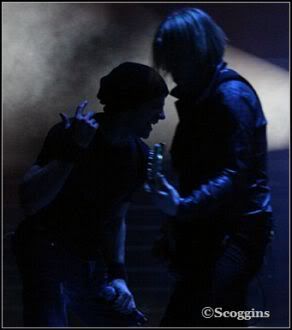 Next up was Pendulum, once again adding to the technology heavy theme of the tour, but this time on a darker note. Just when Does It Offend You, Yeah? had the crowd fuel-injected and ready to roar, Pendulum smacked them down with the harder, edgier techno-rock songs from their third album, Immersion, released January 25, 2011 on Atlantic Records.

A more veteran band with plenty of festival experience, Pendulum took control of the crowd immediately; an absolutely knock-out performance that had me asking myself, "Where the Fuck did these guys come from?" (Australia) Apparently however, I'm one of the few ignorant, the 21,000 seat venue barely an empty seat when they hit the stage--no one wanted to be late for Pendulum!

Pendulum's latest album has done serious damage on the British rock charts and they're well on their way--sharing support duties with the Prodigy on leg two of A Thousand Suns and then onto Download Festival 2011 in Donington, UK. This band is locked, loaded and poised for launch. Pendulum rocks techno like a metal band, but they can play it down and dirty as well. And that double-threat makes them a band to watch; I suspect we'll be hearing the name Pendulum a lot in the very near future. I have to admit that I know they're doing Donington because I immediately checked their tour schedule to see if they'll be back--I'm already dying to see them live again!

Pendulum also had a short set, but brought it in a big way, darkening the atmosphere and adding the more nu-metal meets techno tone that would begin the transition into the heart of the A Thousand Suns tour--Linkin Park themselves.
Concert Review Photo Video: Linkin Park


Linkin Park has always been a band known for pushing limits, for exploring the world through their music and their live stage shows. Never a band to play it safe they've taken risks, crossed genres--and the results thus far have made them one of the most versatile, unique and successful bands to hit the airwaves in the last decade. By the time they released their fourth album on Warner Bros records, A Thousand Suns, in September 2010, Linkin Park had already scored more hit singles than most bands with double their catalog.

A Thousand Suns debuted in the the #1 position on Billboard's Top 200. That same year the band took home the MTV EMA award for "Best Live Act." On January 23rd, at Philips Arena in Atlanta, Linkin Park proved their win by delivering an incredible performance both musically and visually.


All the years of pushing limits, of driving themselves increasingly harder to create music that matters--and succeeding--has brought Linkin Park a distinction that few bands can claim, besides Grammys and numerous other awards, they have created, from only four albums, a catalog of hits and fan favorites so large that it would be impossible to play them all in one show. But I heard not one complaint from fans about a song not being played. Linkin Park's career catalog is so diverse in styles, in genres, that it would seem impossible to pull it all together into one cohesive theme--but on the 2011 A Thousand Suns tour, that is exactly what they managed to do.

Linkin Park played 23 songs--not just played them, they poured their hearts into them and pulled from within themselves absolutely gut-wrenching, emotional and passionate performances. And just when I thought they had to be exhausted, emotionally spent, they came back even harder. Stronger. Within those 23 songs they managed to work in elements of other songs; from their many years of daring musical exploration they created a rich tapestry that connected their music, from past to present, fluidly--and it re-connected them with their audience as well.

The cohesive element making it all work is their latest album, A Thousand Suns. It is entirely responsible for pulling it all together. The tragedies, anger and hope expressed on that album, the voices and events that fed our fears and the people who inspired us--those we've loved and those we've loathed with equal amounts of passion--were represented. Linkin Park has breathed new life and new meaning into the music of their past. You'll never listen to a Linkin Park song the same way again. Every word they've ever written, every note they've ever played has been re-born with breath-taking, soul-shaking passion.

The A Thousand Suns tour features an elaborate, intricate and brilliant display of "light-meets-sound" that allows the music to flow seamlessly between dark and light, past and present. The incredible stage set features towering screens that reinforce the atmosphere, sometimes reflecting the smokey silhouettes on the stage, at others depicting scenes that tie in closely with the theme of the album, from Orwellian to inspirational.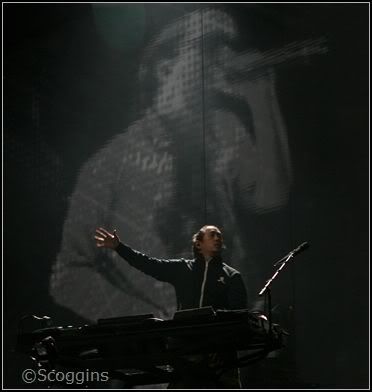 The sonic journey that wends its way throughout; one moment soothing, then building to crashing crescendos of electronics and oft punctuated during the dangerous times by sudden, blinding flashes of light that seem to explode from the stage; a shock to the senses to knock us out of our complacency. That feeling of danger was amplified as Oppenheimer arose from the dead before us, hushing the entire audience and bringing, through "The Radiance," an authentic understanding of his meaning in the words "I am become death."

The light show involves the entire audience; dancing patterns that sweep from the stage the width and breadth of the arena and back again. What I saw in the mottled, moving illumination truly blew me away--21,000 people, from the furthest end of the arena to the highest nose bleed sections, hands in the air, moving in such perfect consonance that it was as if they had become one being. I can't speak for any other city, but in Atlanta there wasn't an ass-warmed seat for Linkin Park's entire set--and they never stopped moving.

It was so incredible that I couldn't resist pulling out my cell phone and shooting a few seconds for the record; proof that my eyes had not deceived me. I've never seen Atlanta rock like that before!

If there was one message that came through more than any other during this concert it is that Linkin Park loves their fans and their fans love them. The stage for A Thousand Suns, unlike most concert stages which create a protective barrier between band and audience, was v-shaped in the center, allowing for better visuals of the entire band no matter which side of the stage they were on. It also made the connection more personal, allowing the band increased access to the fans packed into the pit.

In the air at Philips Arena on January 23, 2011, there was an almost electric feeling of excitement, three years worth of anticipation. Atlanta was only the third concert on Linkin Park's A Thousand Suns tour and both the audience and the band were visibly amped up; the emotional intensity of the reunion could be felt throughout the 21,000 seat venue.

When Chester Bennington and Mike Shinoda each, in turn, left the stage to venture out into the audience towards the close of the show, it brought the entire arena to its feet. Not just a hand slap moment, both men hugged and huddled up with fans as they sang their way through the pit. It was one of the most powerful moments between audience and band that I've ever seen, and it truly expressed the connection that these men feel with their fans. Atlanta knew, in that moment, that Linkin Park has missed them as much as fans have missed Linkin Park.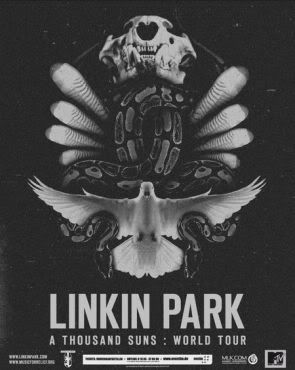 A Thousand Suns
Linkin Park Setlist:
The Requiem
Wretches and Kings
Papercut
Given Up
New Divide
Faint
Empty Spaces
When They Come For Me
No More Sorrow
Jornada del Muerto
Waiting for the End
Wisdom Justice and Love
Iridescent
Numb
The Radiance
Breaking the Habit
Shadow of the Day
Crawling
One Step Closer

The Messenger
In the End
What I've Done
Bleed It Out

A Thousand Suns
Tour Schedule
Feb 4 New York, NY @ Madison Square Garden
Feb 7 Montreal, QC @ Bell Centre
Feb 8 Toronto, ON @ Air Canada Centre
Feb 10 Washington, DC @ Verizon Center
Feb 11 Uncasville, CT @ Mohegan Sun
with The Prodigy:
Feb 15 Houston, TX @ Toyota Center
Feb 17 Dallas, TX @ American Airlines Center
Feb 19 Las Vegas, NV @ MGM Grand - Garden Arena
Feb 20 San Diego, CA @ Viejas Arena
Feb 23 Los Angeles, CA @ Staples Center
Feb 25 Salt Lake City, UT @ Energy Solutions Arena
Feb 26 Denver, CO @ Pepsi Center
Purchase A Thousand Suns album or tickets at www.LinkinPark.com
A special note of thanks to Scoggins from ASight2See.com who handled the concert photography duties for me. Be sure to check out his Band Photography page for more from the A Thousand Suns concert as well as his Uproar, Crue Fest and the Most Wanted tour coverage. He did a spectacular job and I truly appreciate it. Original publishing: * Concert Review: A Thousand Suns - Linkin Park Rocks with Pendulum and Does it Offend You, Yeah? * Concert Review: Linkin Park blasts off with A Thousand Suns