The effects of the Bush recession wear on. In 2009, Rutgers University commissioned a study not just of unemployment statistics, but real world impacts of the recession, job layoffs, and personal economics of those impacted.

It's difficult for anyone who has retained a decent job through the ongoing economic crisis to fully grasp how many of your friends, neighbors and families have been truly gutted by both job loss and GOP-inspired social safety net reductions. The simple rapid nature of this sea change in personal economics should be a big cause for concern in the ranks of the 1%.

This is what it's all about for me: a bit further down, I explain why I'm cherry picking one statistic from the study that floored me (but please, read the entire study - it's not that long, but there's a treasure trove of information contained within). This infographic is pretty easy to understand: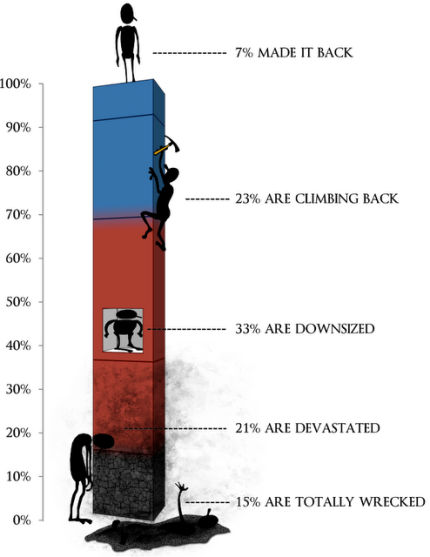 - [Unemployed] workers who have MADE IT BACK consider themselves in excellent, good, or fair financial shape and have experienced no change in their standard of living due to the recession.

- People ON THEIR WAY BACK have largely experienced a minor change to their
standard of living, but say the change is temporary. They also consider themselves in excellent, good, or fair financial shape.

- Workers who have been DOWNSIZED meet one of three conditions; they have
experienced: a minor change that is permanent; a minor change that is temporary, but they are in poor financial shape; or a major change in their standard of living that is temporary and they are in at least fair financial shape.

- Workers classified as DEVASTATED have experienced a major change to their
lifestyle due to the recession. They can be either in poor financial shape and think the change is temporary, or in fair financial shape but think this change is permanent.

- Workers that have been TOTALLY WRECKED by this recession have experienced a major change to their lifestyle that is permanent and are in poor financial shape.
The Rutgers study is isn't a specious, one-off graduate course six month disseration requirement. It's thorough, and there's been followup for three years. Here are the parameters:
The research began with a cross-sectional sample of 1,202 who had said they had lost a job at some point in the preceding 12 months (between August 2008 and 2009). They were resurveyed in March 2010, again in November 2010, and then in August 2011.

A total of 3,972 individual surveys were completed over the two years. Well over half of the original respondents participated in all four waves of the project, meaning they spent, on average, 50 minutes of their time responding to roughly 200 questionnaire items.
Here's a chart from the study that I found very interesting, and personally applicable to me, as an unemployed male of a "certain age":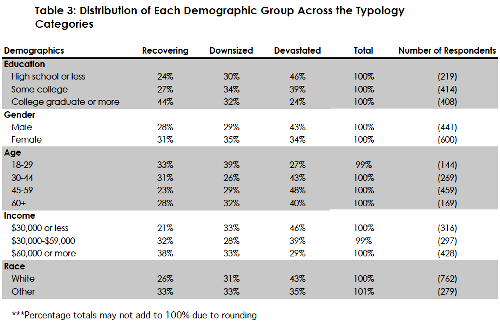 Under the "age" demographic heading, you'll find the range, 45 - 59. Scroll to the right, and look under the heading, "devastated". The highest percentage on the entire chart - 49% - is shown in this category. (Refer to the definitions above for a description of the categories.)
My interpretation? Those who are in this age demographic (such as myself), and who have lost their jobs, have been the most severely impacted across all age impact typology. What this means is that if you've lost your job, and you're over 45, the financial hit and personal toll that it's taken on you and your family is catastrophic. Implied, but not specifically discussed, is that if you've lost your job, the chances of getting another one even marginally close to the one you lost is slim.
The
ongoing Rutgers study
(latest data points collected in August of 2011) is the first study I've found that actually speaks to the personal impact of the economy, and the hopelessness that many of us feel.
There's much to be gleaned from the information provided in the study that this short article doesn't address. It should be made clear, though, that this study is a continuing analysis of
unemployed
individuals, and the impact on their lives, both financial and personal.
Losing one's job is about more than just losing a paycheck. It's about losing dignity, self respect, self worth, and questioning one's own ability to contribute both to their family and society as a whole. I've only focused on one aspect of the Rutger's study in this article, and once again, I encourage you to
read the entire study
. It's not that long (11 pages), and there are literally nuggets in there for everyone, in every demographic (age, ethnic, and education).
While the Rutger's study might not be personally applicable to those who haven't suffered a job loss in the past five years, almost everyone knows someone who has been directly impacted by layoffs, downsizing, offshoring, or business failures. The primary takeaway is that there is major fraying of the social and financial fabric of this country that isn't being adequately explored or addressed at either state or federal levels.
There are real stories behind the sterile U3 and U6 monthly unemployment statistics that the Rutger's study just begins to reveal.