One of the comments in my last post mentioned my avatar so I thought I'd show its origin.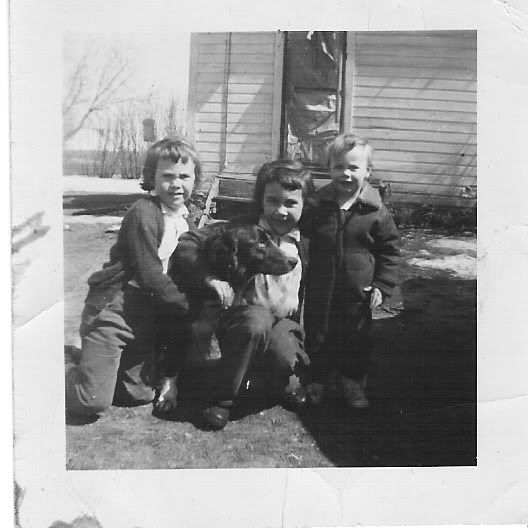 I'm on the left, of course, with my two sisters and Boy, my uncle's farm dog. It looks like Jackie is about 2 which makes me 6 and Michele 7, it would have been about 1955. I look cranky because the sun is in my eyes though I often looked pretty serious. And my bangs are probably cut straighter than it looks, my hair's messy. We were playing at the farm, not being all cute.
I wonder if my dad wasn't learning how to take pictures at this time. We would have just moved to Minneapolis from a small town and dad would have gotten a job on the big city paper. Soon he was to become the assistant photo editor. He had a degree in journalism but we never talked about whether he had taken photography courses. He was always big on having his subjects face the sun. He was a good photojournalist but would never have made it as a portrait photographer. Somehow, all your defects showed up clearly in his pictures.
Here's Boy in front of the farmhouse. With Dad's shadow. Boy was a good and patient dog. Riding on his back amidst a crowd of siblings and cousins is one of my earliest memories. Every day, twice a day, he took himself down to the pasture and herded the cows up to the barn. I'm sure they'd have come on their own to be milked but Boy made sure they were on time and there were no stragglers. I never saw him inside the house but the barn was warm.
Very few years later I saw my strong and silent farmer uncle, Alvin, carrying a shotgun, walk to the woods with Boy and return with just the gun, his face red, swollen and streaked with tears. I don't remember if it was around the time Al gave up farming and moved to California; maybe it was just Boy's time, or he was sick. No one ever explained or even talked about it in my presence.
As an adult, I'm struck by the shabby appearance of the farmhouse, Grandma's house. I thought there was a window on the visible wall, maybe it's to the right of the picture frame, maybe I just imagine it's there because the living room was always bright and pleasant.
I've always known that the barn had running water at least 20 years before the house, and then the house only got it in a kitchen sink. I had a childhood of hauling buckets of water and chamber pots and heating dish and laundry water on the woodstove, usually in Grandma's massive pressure cooker. That was just on visits and summers I spent on the farm. Normally, I was a city kid.
And, ok, Uncle Al was a hardworking farmer with cows and pigs and 300 acres of pasture, soybeans, corn and alfalfa. But there were a couple of aunts around, one with a husband, my parents were only 100 miles away and we visited pretty often. Why didn't they get together and paint the house? Why was there cardboard (or plywood?) covering the screen door in the winter? I suppose for the same reason the barn had running water and the house didn't - it just wasn't important.
Come to think of it, at the time of these pictures, Grandpa would have still been alive and he and Grandma were living a few miles away from the farm. Al was alone in this house. Bachelor farmer. That explains a lot.
And here I am in a school picture, 1955, age 6, looking a little more put together and cheerful, at around the same time, hair still resistant to my mother's taming influences, apparently.
But the avatar will stay. I'm still feeling just about that cranky.