First, Good News.
Philadelphia's (former) Msgr. William Lynn



Doing for the Church and for children what it was unwilling to do for itself and its children in all of its dioceses and for so long, a court in Philadelphia, having taken matters into the public criminal domain, sentenced Monsignor William Lynn of the Philadelphia Archdiocese to up to six years in prison for child endangerment. Msgr. Lynn was convicted on 22 June of systematically shielding pederast priests. Msgr. Lynn's trial also brought to light evidence concerning 700 priests who were forced out over three years and yet, prior to Msgr. Lynn, not a single ranking Church administrator anywhere was brought to anything like Justice for their active and/or blind-eyed approach for what they knew were serial crimes against children.
One of the more nasty aspects of this prosecution was that without a copy of a previously and deliberately (yet inadequately) hidden archive of sexually abusive priests that Msgr. Lynn had compiled for Philadelphia's late Cardinal Bevilacqua, the Philadelphia District Attorney would have had an almost impossible task. (An as yet unsung hero or heroine in the Philadelphia Archdiocese had copied the archive and turned it over to civil authorities.)

In another piece of good news, a bishop may be forced to account in this sordid history; he is Kansas City-St. Joseph Bishop, Robert Finn. He stands accused of ignoring red flags about a priest under his authority who himself is accused of snapping pornographic photographs of young girls. Fortunately, while Bishop Finn claims innocence, while Church lawyers in his case had fought to keep relevant Church records under wraps, a court has ordered Church files on the bishop turned over to prosecutors. Kansas City's Bishop Robert Finn


These developments are good news despite their origin, despite how deliberately smothered their truths were for so long.

Now, for better news.

This is an excerpt from a piece I published here on scholarly speculation about the Gospel writer Mark being a woman:

American nuns who object to new (male) oversight of their work, under the leadership of Sister Simone Campbell began a nine-state bus tour protesting proposed federal budget cuts, saying they felt called to show how Republican policies are affecting low-income families. The tour started in Des Moines is organized by Network, a Washington-based Catholic social justice group criticized in a recent Vatican report that said some organizations led by nuns focus too much on economic injustice. The Vatican has asked American bishops to look at Network's "serious doctrinal problems".

Since these good women have started their tour, Rome's patience with them and with American nuns has fairly well bled out. The nuns have endured extraordinary attacks and are weighing a response. Here are excepts from a recent New York Times piece by Laurie Goodstein.

The nuns will decide whether to cooperate with three bishops appointed by the Vatican to supervise the overhaul of their organization, the Leadership Conference of Women Religious, which represents about 80 percent of women's Catholic religious orders in the United States. The Leadership Conference says it will consider at least six options ranging from submitting to the takeover to forming a new organization independent of Vatican control.
...
Sister Pat Farrell, president of the Leadership Conference, said the Vatican seems to regard questioning as defiance, while the sisters see it as a form of faithfulness. "Our understanding is that we need to continue to respond to the signs of the times; the complexities of modern life are not something we see as a threat."
....
The sisters see no contradiction embracing the Catholic faith while also being open to questioning church teachings based on new information or experiences. "We make our vows, but our obedience isn't blind," said one mother superior.
....
After Vatican II nuns had access to higher education, became scholars, theologians, chief hospital executives, legal aid lawyers, social workers and martyrs. Sisters tackled issues -- economic injustice, racism, women's rights, immigration, interfaith relations, environmentalism -- which for many years put them in working relationships with bishops also engaged in those causes. And yet the Leadership Conference was a thorn in the Vatican's side even before 1979 when its president, Sister Theresa Kane, welcomed John Paul to Washington with a public plea to ordain women. The Bishops know polls show that about 95 percent of Catholic women have used birth control; 52 percent support same-sex marriage -- little different from the [general] public.
---
We'll almost certainly never know despite the intriguing evidence and thoughtful scholarly argument whether or not Mark was a woman's signature, a woman's singular faith-confession.
What I do know and what is beyond doubt is that Sister Simone and her colleagues aren't alone on their social justice bus.

I know who's on the bus with these women; that rabbi hopped aboard long ago.
The Justice Jeremiah and Jesus honored and lived, it never bleeds out.
Sister Simone Campbell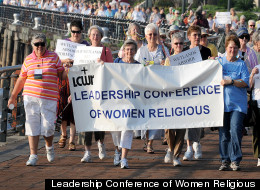 Leadership Conference of Women Religious