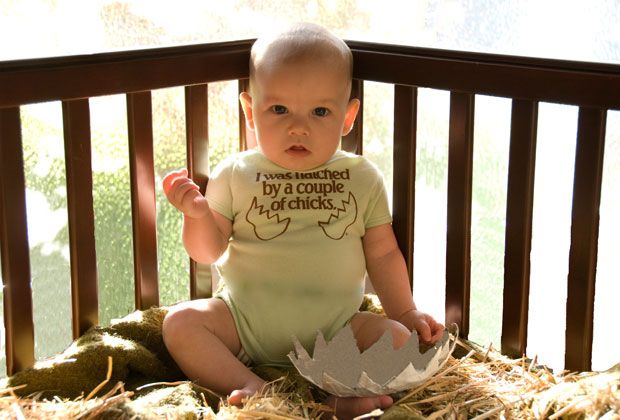 _____
Part of the rhetoric we hear against marriage equality is that children are naturally far better off in homes where there is a heterosexual, married couple. Those routinely railing against the historic movement toward thoroughgoing equality under law warn us that children's futures are at stake, suggesting that allowing LGBT citizens to marry not only subverts nature and the Plan of a very narrowly-imagined God, but that it also places children in danger. It's among the more nasty lies going.
UCLA Law School's Williams Institute has just released a twenty-four-year longitudinal study--the most comprehensive of its kind ever. UCLA found, in fact, that no child of a lesbian couple had been either physically or sexually abused. Not one. The study, "The U.S. National Longitudinal Lesbian Family Study (NLLFS)", may be found at UCLA's and the NLLFS web sites. Overall, 26% of American teens reported parental physical abuse, and 8.3%, sexual abuse. Further, just 2.8% of the teens in the generation-long study identifed themselves as gay; even if that last number doesn't account for kids who chose to hide from researchers who they are, this strongly reaffirms the commonsense idea that being gay isn't 'contagious'.
The study reports "...the absence of child abuse in lesbian mother families is particularly noteworthy, because victimization of children is pervasive and its consequences can be devastating. To the extent that our findings are replicated by other researchers, these reports from adolescents with lesbian mothers have implications for healthcare professionals, policymakers, social service agencies, and child protection experts who seek family models in which violence does not occur."
The study was made by Nanette Gartrell, M.D., Henny Bos, Ph.D. (University of Amsterdam), and Naomi Goldberg of The Williams Institute. The chief investigator, Dr. Gartrell, is a 2010 Williams Distinguished Scholar and an associate clinical professor of psychiatry at UC San Francisco.
While I encourage you to read more in the findings, two points crystallize.
. Even though we know all forms of abuse are generally under-reported in private and government studies, the results here are compelling. They are striking because even if the number of children who reported abuse by lesbian parents in this 24-year study--zero--is somehow low--and I am not saying this study is incorrect--the actual total would almost certainly still be remarkably small.
. There will be follow-up, longitudinal studies. By the time marriage equality is law across our nation, there is every chance these findings will largely have been confirmed.
Now, I am not making the case that lesbian mothers are fundamentally more decent, less naturally given over to anger, or have inherently far greater self-control than, say, straight women do. Nor does the study suggest that. I am saying that perhaps...and this is the opinion of a gifted psychologist, a friend whose practice has for decades welcomed the challenges LGBT teens and families face...that lesbian moms' socialization teaches, among other lessons, that any lapse in self-restraint can give ex-husbands an excuse to challenge custody arrangements.
Whether or not you buy the results of this ground-breaking study--and, again, I hope you'll read the details before you decide--this ought to make it clear that anti-equality rhetoric as to lesbian moms is, at best, emotional, mostly religiously-inspired claptrap that has nothing whatever to do with the lives of lesbians and their children.
_____
Publications - NLLFS - National Lesbian Longitudinal Family Study