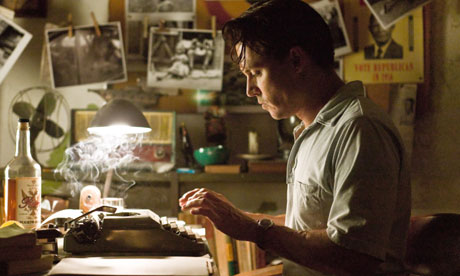 ABOVE: "'Once upon a time...' No, too cliche. 'In the beginning...' No, no, it's been done. Grrr. 'We were somewhere around Barstow when the drugs began to take hold.' I like that one!"
Unless you're Anne Frank, a DIARY doesn't offer much conclusion; only the sense of a progression, a trip, a journey.
That's the problem with the Johnny-Depp-produced adaptation of Hunter S. Thompson's "The Rum Diary." We get the progression (Thompson was only 22 when he wrote the entertaining-but-immature original); we get a first LSD trip (of course); and we certainly have a journey (a sun-drenched vacation to lovely San Juan).
But the conclusion to the movie lies elsewhere, (namely in Terry Gilliam's cult-starting version of "Fear and Loathing in Las Vegas") and while this isn't exactly a prequel, it only makes sense as one, (the closing screen practically reads: "And now, wait for the MAIN FEATURE.") It falls kind of flat for it: Director Bruce Robinson is not given to Terry Gilliam's seemingly uncontrolled visual whims, and "The Rum Diary" is, for most of its length, a shockingly sober movie.
Johnny Depp predictably plays Thompson stand-in "Paul Kemp," a rookie reporter looking for a gig in 1960s Puerto Rico. He gets it, working for a crumbling English language newspaper lousy with Ugly Americans: The superior cast of Richard Jenkins, Michael Rispoli and Giovanni Ribisi, (who runs away with the movie as a menacing, beyond-dysfunctional alcoholic wreck covering the religion beat.)Yes, Johnny Depp is the nearly normal observer again. Pity.
ABOVE: If Giovanni Ribisi had won an Oscar for Best Supporting Actor, you know what? That would have been alright.
There are many terrific moments sprinkled throughout (a tense run-in with locals, that eerie LSD experience), but the novel's innate immaturity creeps through with a cliche love story. Or, really, lust story: Hunter S. Thompson loved drugs and guns but he wasn't all that keen on fully realized women, and so we get a skinny-dipping siren named Chaneult (Amber Heard, giving an aging Scarlett Johansson reason to look over her shoulder.) I have no qualms with skinny-dipping, but in a movie with so many eccentric, lively men, why is the one and only woman so flat she might as well have been played by a cut-out of a pin-up?
ABOVE: She sure is pretty though. Hunter S. Thompson's zealots should (and will) like "The Rum Diary"- the rest might wish it gelled better- and practically all will feel the need to squeeze in "Fear and Loathing" for a double feature.