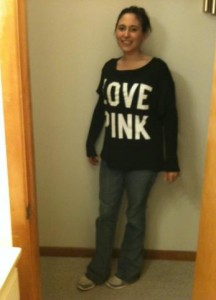 Me, the picture this article is based on
Body dysmorphic disorder or BDD is a mental illness characterized by a skewed perception of the self. People with BDD spend large amounts of time obsessing over and trying to "fix" a physical flaw that they believe they have. Often this flaw is more imagined than real. Take for example, people who become addicted to plastic surgery. No matter how many procedures they get, in their minds, they always fall short of perfection.
I remember watching Dr. 90210, a show about a plastic surgeon and his practice in Beverly Hills, California. Not only did it appear that his wife, who got skinnier and skinnier every episode, had a titch of this disorder, but it also seemed to plague many of his patients. On one episode, a woman who's body was on par with a Victoria's Secret model came into the office for a consultation. She said that her thighs were fat. It was pretty anticlimactic when she revealed her thighs and pointed out the region of imperfection because there was none.
I didn't realize that I too had a bit of this BDD. I always feel fat and bloated. I am still trying to lose "that last twenty pounds." And it wasn't until I saw a recent picture of myself that I realized that I might be suffering from the disorder.
When I talk about wanting to lose twenty more pounds, my family often looks at me like I am crazy. They say things like "where is that twenty pounds gonna come from?" And I roll my eyes, believing that they are clearly lying to me. When I saw a recent picture of myself, I gasped. I could not believe how thin I was. I never would've guessed I was so small, and the realization was shocking. Internet dating again, I had initially put the picture up on my profile because I looked so thin. A few of the guys I had been talking to said that they liked the picture but would prefer some that "showed my curves." I was disgusted by this comment. Were they politely hinting at seeing more revealing pictures of me? Pictures that were possibly if not borderline pornographic? I suspected that was what they were inisinuating until then I looked at my picture a second time. I was head to toe covered. Long jeans. A black t-shirt with a long sleeve black thermal underneath it. If I had thrown some black fabric over my head, you could've easily mistake me for a nun. I gasped at my shrouded appearance. This too was part of the BDD.
Some people with BDD think they are really fat. Like me in that photograph, they wear extremely loose fitting clothing to cover their imperfections. Seeing this picture was certainly a wake up call. However, I often feel that I am bloated and my pants are too tight. It is not only after I eat that I feel that way. A friend pointed out that it is psychological.
When I was in high school, I steadily weighed ten pounds less than I did in this picture, and even then, my mother told me that I was fat. So even at that low weight, every time I looked in the mirror, my brain imprinted the idea that I was fat. So now that I have a body that is ten pounds heavier, I still have a mind that considers my weight minus ten pounds to be overweight.
What I am currently experiencing was obviously not a new struggle with weight and self-perception, but something that started before I was a teenager. I did receive counseling for it and recall one particularly savvy counselor. She had large sheets of paper on the wall and asked me and the other girls to draw a life-size picture of how big we thought looked. She then had us stand against the drawing. Of course, we were much thinner than we perceived ourselves to be. She said that a study was done in the same fashion and that researchers found on average people with BDD portrayed themselves to be on average 20lbs heavier than they actually were.
The disease itself is characterized by obsession, depression, anxiety, avoidance, shame, alcohol/ drug abuse, perfectionism and troubled relationships. Sufferers of BDD are also plagued with compulsive behaviors attached to the misperception of the self. Some of those compulsions include: constantly looking in the mirror or an inability to look at oneself in the mirror; camouflaging or attempting to camouflage the perceived defect; compulsively touching said defect; self-harm; constant exercise and dieting; and repeated plastic surgery.
It was obvious from my shrouded appearance that I was exhibiting some of these compulsions. In fact, I rarely post pictures of myself on my blog and usually prefer not to call attention to my physical self.
According to Wikipedia, "in research carried out by Dr. Katharine Philips, involving over 500 patients, the percentage of patients concerned with the most common locations were as follows;"
Skin (73%)
Hair (56%)
Weight (55%)
Nose (37%)
Toes (36%)
Abdomen (22%)
Breasts/chest/nipples (21%)
Eyes (20%)
Thighs (20%)
Teeth (20%)
Legs (overall) (18%)
Body build/bone structure (1.5%)
Facial features (general) (1.4%)
Face size/shape (20%)
Lips (12%)
Buttocks (12%)
Chin (11%)
Eyebrows (11%)
Hips (11%)
Ears (9%)
Arms/wrists (9%)
Waist (9%)
Genitals (8%)
Cheeks/cheekbones (8%)
Calves (8%)
Height (7%)
Head size/shape (6%)
Forehead (6%)
Feet (6%)
Hands (6%)
Jaw (6%)
Mouth (6%)
Back (6%)
Fingers (5%)
Neck (5%)
Shoulders (3%)
Knees (3%)
Ankles (2%)
Facial muscles (1%)
It is my guess that at least 90% of people would have some part of their body that plagues them with BDD. What do you think?