Not only was this the first museum exhibition of Steampunk art but it was the most popular event the Museum of the History of Science has ever had. The show is in Oxford, England and up until February 21st for those in the area.
The press is calling Steampunk one of the coolest new "thangs."

For me, Steampunk is one of the more vibrant 3-D art movements, bridging pop culture aesthetics found in cinema and the fantastic gadgets consistently churning out with the affection for things of yesterday. I think when times are hard art sometimes looks back in history to more exciting yet simpler times, in this case the ornate Victorian times. I'm most excited when the object's functionality is not compromised and it blurs the lines of art and science. But this video does a better job of explaining Steampunk;
Like many other artists, I started making stuff in this style before there was a name for it, in my case it was 1982 as a kid listening for the first time to
Thomas Dolby's Golden Age of the Wireless
and his incorporating history with art. Later my influences, like many of the Steampunk artists, were
Blade Runner
and
Jules Verne
(in 2000 I honeymooned in Snæfellsjökull, Iceland, the site of his
A Journey to the Center of the Earth
).
Thomas Dolby 25 years later, 2009.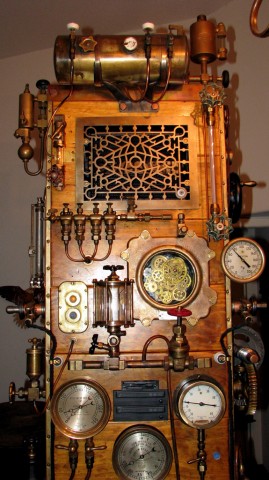 8ft tall desktop computer.

I'm back in London now working on my next book, recovering from kidney stones and hitting flea markets looking for junk for my next Steampunk project (I'm looking for, specifically, old magnifying glasses to place in front of turn-of-the-century candles sconces. Examples of my own interior design can be found at my website Smartass Ideas For the Home and this feature about my "Low-Tide" office in Mac Life magazine written by OSer Lonnie Lazar.I've meet a few great OS people in person (friends like Lauren Dorsee Dillon aka Pretend Farmer, Liz Emrich, Connor aka Mortimer Hayden Smyth), but there are many others I also wish I had the opportunity to meet and I'm sorry that Gary Justis was not with me at this Steampunk show. If you're familiar with his amazing work here, you'll understand why would have loved to hear his impressions of this work.
The last snowman in London.